Classifieds
---
Advertise job opportunities, products, services, or practices/offices available for sale or lease on the AACD Classified Listings page. By having a listing on our page, you'll reach a targeted audience of AACD members and dental professionals.
Members of the AACD will receive listing space as a benefit of membership. Contact Dana J. Murn to submit your listing. Non-members should contact Dana J. Murn, Director of Membership at membership@aacd.com, for pricing.
Current Listings
Cosmetic/Asethetic Practice for Sale - Chevy Chase, MD
Well established, cosmetic and asethetic, FFS practice in the highly desirable Chevy Chase area. Real estate available for purchase. This four op practice has high growth potential - referring most specialty work, limited marketing and room to expand to a 5th op. Metro station within walking distance, Free underground and street parking, 5 star reviews, Dedicated and well trained staff, willing to stay.
Brand New, Modern Dental Office Located in Manhattan Tribeca Area, New York
This office has two (2) operatory rooms available for rent:
100+ sq ft (9'x12') of illuminated space

10' ceilings

New State-of-the-Art Italian dental chairs with:
One (1) X-ray Machine

One (1) Wall-mounted TV

Two (2) sinks

Newly installed cabinets (Base and Uppder) spanning a total of 14', along two separate walls
Dentists will also have access to: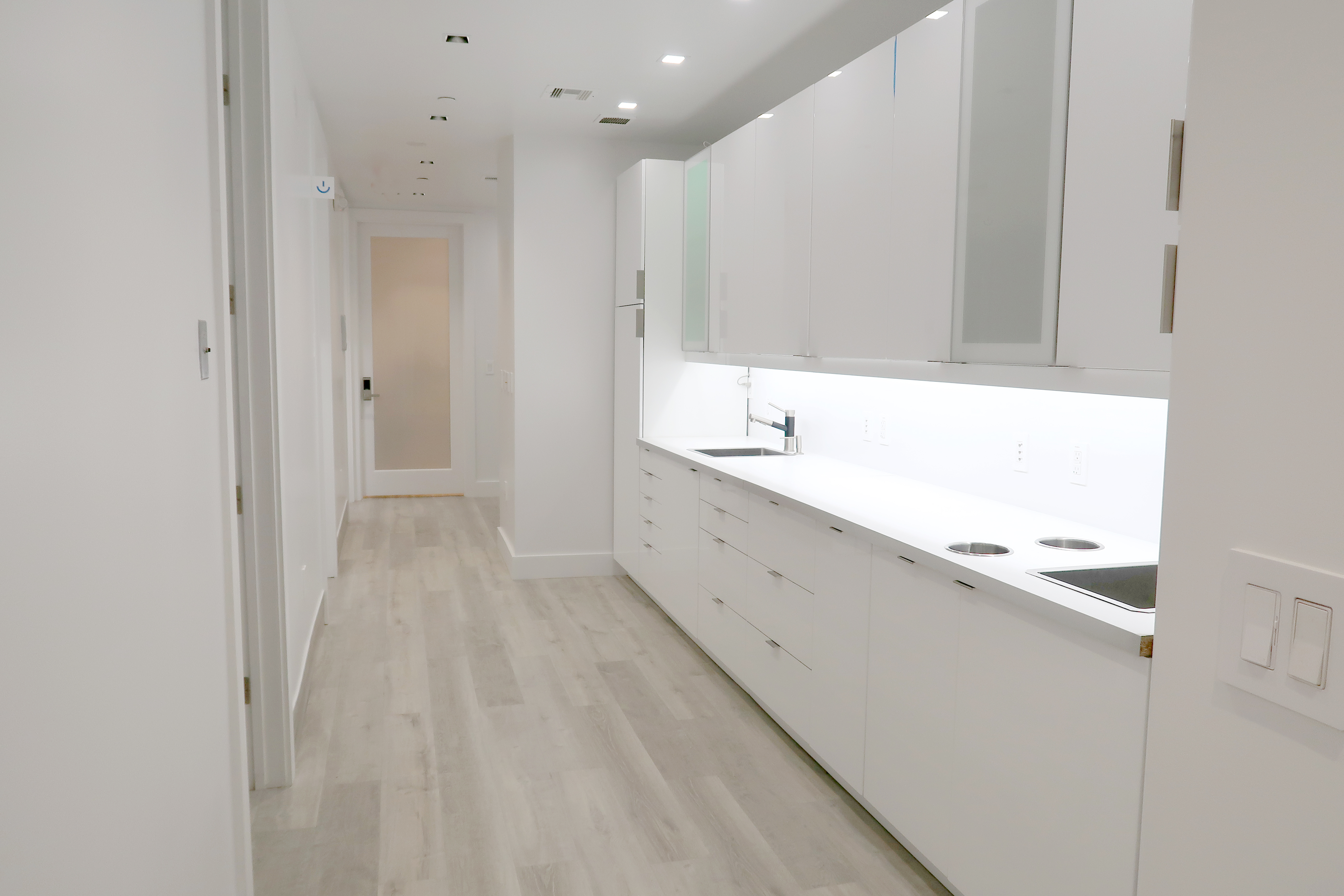 Receptionist / Customer Service / Cosmetic Dental Scheduler / Office Coordinator
Direct your promotional and helping talents into the higher rewarding profession of dentistry!
Life balance: Enjoy a full-time position M- TH ONLY!
Dental office experience required to apply. Your background in brand promotion, marketing, communications, psychology and/or public relations may be an ideal match.

The restorative and cosmetic dental practice of Dr. Hugh Flax is seeking a talented front desk coordinator. We are a close-knit, dedicated team of 6 members who work together harmoniously to create a positive impact on the lives of our patients
Responsibilities include:
Greeting patients and offering amenities to enhance each patients appointment experience. As the first representative of our practice brand to patients, creating an ideal first impression is of highest priority.

Maintaining preventative care appointment on the schedule.

Patient "check-in / check-out" processes

Providing first-visit information over the phone to inquiring patients

Data entry and updating records

Participating in marketing and public relations initiatives

Working closely with  our Practice Manager on special projects
A qualified candidate must have excellent communication skills, be highly organized, and have a strong desire to make a positive different in the lives of others.

Interested in learning more about this position? Click here for instructions to apply to SouthernSmiles1@gmail.com.
Associate Dentist
Could this fantastic unique opportunity be yours?

Seeking a compassionate, self-motivated dentist to join our dental family. We are a well-established, ever-growing, state-of-the-art private practice located in beautiful Tidewater Virginia between Williamsburg and Virginia Beach where patient care is our top priority!

We are passionate about professional development through continuing education so we have dedicated $10,000 solely for your professional development. Our in-office Spear Study Club offers a most unique experience for growth with mentoring in specialty areas. Our dedicated team is experienced and knowledgable.

Future buy in is available.

Please contact Dr. Heriford at 757-560-0659 and send resume to suffolksmiles@gmail.com.
Cosmetic Dental Practice Consultant Needed, Arlington, TX
Changing people's lives and their self-esteem is an incredible and rewarding experience. Are you accomplished or training to provide restorative and cosmetic dentistry? Are you practicing to your full potential? Do you continue to perform too many patch and repair procedures? My three day in-office evaluation will analyze your current practice operations and offer your team ideas and tools guaranteed to increase comprehensive restorative and cosmetic case acceptance. Contact Mark Absher, 2608 Woodside Dr., Arlington, TX 76016, 817-239-7480 or via e-mail at markoinarlington@gmail.com.
Sonoma County, California General Practice for Sale
Sonoma County general practice for sale. Asking price $715,000 with financing available. Building is also available as an optional purchase. This practice is ideally located in the California wine country next to the 101 Freeway, directly across from the town square. Visibility from the main thoroughfare is excellent. The practice has no PPO nor HMO contracts. All patients pay UCR fees for all services. Cash flow will be 100% transferable to the buyer. Equipment and leaseholds are in excellent condition. The owner has practiced in the area for over 30 years and has a strong, active base and will aid with ownership transition. Contact Michael Perry DDS, drperry@sonic.net or by phone at (707) 888-0749.
Associate Looking for Full Time Position in Dallas, TX
A HIGHLY motivated associate dentist with thirteen years of experience, looking to join a quality-driven practice. Open to transitioning into a partnership or buy-out opportunity. Contact Parihan Tamkin, DDS at parihan.dds@gmail.com.
Practice in Virginia Beach, VA Seeking Dentist 
Looking for a way of out of corporate dentistry?
Looking for a path to ownership within the year?

We are looking for a forward-thinking dentist who is looking to become part of an established team of stakeholders in Virginia Beach, VA.

We may be a fit for you if you are looking for:
Available use of advanced technology such as 3D printing, CT guided implant surgery, digital workflow, advanced dental photography

Emphasis on patient education, 120-minute comprehensive new patient appointments based around the principles of co-diagnosis and self discovery

A hygiene team that has a rock solid investment in the health of our patients tissues, and a protocol to support it

The ability to practice autonomously in your own practice setting

A team that invests in continuous learning with yearly retreats and CE events to better the services that we provide

A schedule that allows for a balance, ending our patient time at 3 PM three days a week, starting at 11 AM one day a week
If you are still reading and think we may be a good fit, please have a portfolio of your work available at the time of an interview and please take the time to complete the questionnaire here.
Resident Looking for Associate Opportunity in New York, NY
General dental resident with passion for restorative and cosmetic dentistry. Training in advanced general dentistry and hospital dentistry, with a significant background in research. Honor societies and professional affiliations include OKU, PBK, AO, AACD, AGD, and ADA. References available upon request.

Lara Seidman
Laraseidmandds@gmail.com
Practice for Sale, Oakland, CA
Exceptional cosmetic and restorative practice in trendy and upscale district of Oakland seeks an associate to become a new owner to continue our tradition of excellence. Current dentist has cultivated an impeccable reputation for quality comprehensive dentistry and patient care. A loyal staff is ready to ensure a smooth transition. We are looking for that dentist who wants to take their dentistry to the next level.

This well-established practice boasts 6 fully equipped operatories, plumbed nitrous in each room, digital panoramic and x-ray machines, well laid out sterilization room, ADA compliant restroom, elevator, dedicated parking spaces, attractive reception area and welcoming front desk. A boutique type of practice started 35 years ago.
180k average monthly collections

1500 active patients

8-9 days of hygiene per week

7 days of dentistry per week / a 2 doctor practice

10-15 new patients per month, exclusively through word of mouth

Fee for service except Delta Premier

Fun staff that work well as a team and treat each other as family

Very special relationships with our patients for generations
Original owner has created an atmosphere of passion for dentistry. Hygienists and RDAs are well trained in Invisalign and have completed years of next level cosmetic training through the AACD. 

This practice is equivalent to a Ferrari. You just need to get in and drive. It is turn-key and ready for an experienced and enthusiastic new potential owner. For more information, please click here.